During the past few lesson, I was taught what is diabetes and what are the causes of it and I realised I don't really know what is diabetes in the past.
Did you know that 1 in every 2 adults in Singapore will suffer from Diabetes in their lifetime?
The major cause of increase in the incidence of diabetes is a sedentary lifestyle.
Exercise and diet can either reduce or delay the incidence of diabetes by over 50%.
Almost 90% to 95% of diabetes is of type 2 or maturity onset type; that affects
people in their middle age.
A diabetic person spends about $1000 a year for subsidized outpatient care at a
polyclinic. If the kidney of a diabetic fails, he will have to pay $12,400 for a year on
dialysis and diabetic treatment.
Diabetes is an important
'silent killer disease'
as there is usually no early symptom
of the disease. The commonest early symptom is feeling thirsty.
Diabetes causes 6 deaths every minute and one in 20 deaths in the world is due to
the condition. Every year it is estimated that 3.2 million people in the world die due to
diabetes or its related causes.
There will be a health and diabetes workshop held this Friday to promote awareness of how we as a individual can manage diabetes.
Health & Diabetes
is a 2 hours workshop designed to inform participants and diabetic
patients on how to manage diabetes more effectively. Class size is limited to 30 adult participants,the atmosphere is both supportive and motivating.
Health and Diabetes is part of a series of workshops that aims to address some of the concerns
chronic illness patients have through fitness management.
Here are the details
Date: 10/12/10
Time: 7pm – 9pm
(registration starts at 6:45pm)
Venue: Fitness Force Gym
(CairnHill) No. 1 Anthony Road
Singapore 229944
Cost: SGD8.00
The Programme overview
Opening address by Prof Rano
 True life account sharing bya fellow Diabetic patient – Kok Boon
 Refreshment – Sharing on
Nutrition by Mr Derrick Ong
 Sharing of fitness activity by Kevin Chiak
To register, log on to: http://www.facebook.com/singaporemedicalfitness
or Contact us at: 9084 0094
The following is some of the speakers of the day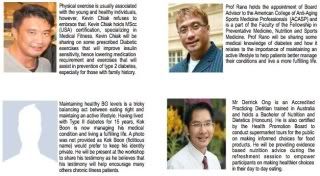 Hope you guys would support and attend this workshop. Feel Free to ask me anything about this workshop and I will try to answer as I can :)