Yo ! What's up ?
! Do you feel the Yog Fever by now already ?! If you haven, I Do !! And yes, As you guys have seen, there are many YOG Purple and Red buses out on the road ! Oh yea, for any of you who are driving ! Please give way to them ! to Show Our Welcome to them by not delaying them for their schedule yea ! and also Stand to Save yourself for kana fine $130 LOL !
Okay, Anyway Like what my title puts ! What to
EXPECT
for City Celebrations? And how to win the tickets to it? Oh well , firstly, What is City celebrations? They are Celebrations done by Different Artiste from Overseas For Yog!
Maybe you would think eeeyer ! Confirm those lousy artiste that you never heard of right? No !!! You are so wrong ! This time
Samsung
, the Main official Sponsor for YOG has made a lot of effort in inviting these artiste okay !
I attended the first one last friday ! by
BEAST AND 4 MIN !
>
They are 2 famous korea bands ! I guess most of you do know ! , Not a Crazy Fan of them but yea I feel that their songs are nice ! Do youtube them :)
The Upcoming 3 other Artiste are also "
The CLick Five !
" , "
Nicholas Zhang Dong Liang
" and our own Singapore Singer, "
Alarice
" !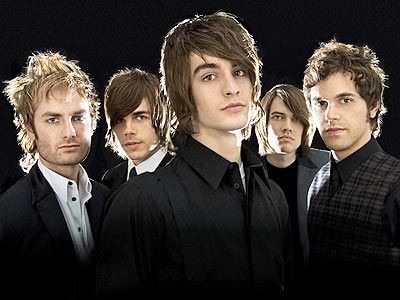 Not forgetting popular home-grown
Singapore
talents – Sezairi Sezali, Electrico, Great Spy Experiment, Budak Pantai and many more!
Now I guess you guys are hot for the performance right !! Want the tickets right??? Let me teach you how to get those tickets !!

1)
2)Purchase a Samsung Galaxy S now !
And you will get to win the
VIP
tickets for the performance by the artiste !!
WHAT ARE YOU WAITING FOR??
Don't miss the action !! See you at the Celebration@Marina Bay!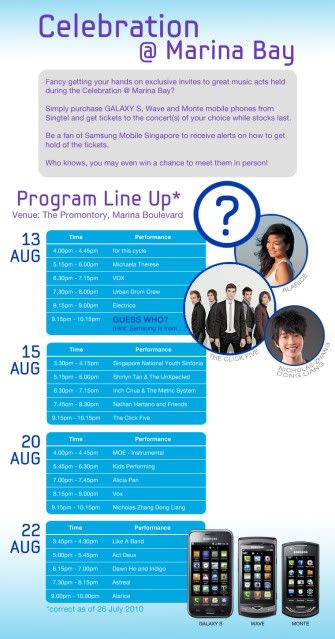 Date: 13 to 26 August 2010
Venue: Promontory@Marina Bay, Marina Boulevard
Time: 9 am till late
Celebration@Marina Bay is presented by Samsung, Worldwide Olympic Partner.