Hello Peeps !
it's been quite a while since I watched a movie ! and today ! I got a chance by OMY.sg to have the privilege to watch the Shrek 4 first before it's release on 20may which is turning in 8mins time !
And So, I was given 1 pair of ticket ! , brought along meldric with me !
Went down to plaza sing to meet meldric,andy and don for dinner and then headed down to The Cathay for the Movie ! The grand Cathay theatre leh ! woohoo 2nd time :P
While waiting for the gate for the grand cathay to open, we saw the Shrek Mascot ! and not long after, Many crowd around it to take photos with him ! , So did me and Andy !
After we entered the theatre, at each of the seats there is one pack of coco krunch or Honeystars for us to munch while watching ! So good right ! Yum Yum *
Continuing from the first 3 episodes of Shrek,
After all of his adventures, Shrek has become a domesticated family ogre. Instead of scaring villagers away as he used to, Shrek changed.. Longing for the days when he felt like a "real ogre", Shrek is tricked into signing a pact with the smooth-talking deal maker,
Rumpelstiltskin
, who offers Shrek a day where everything will be as if his adventures had never happened. Shrek can't resist the offer- all he wanted was a day off to relax, to be a real ogre again. However, to get a day off, Shrek needs to give up a day from his childhood. However, after signing the contract, Shrek soon discovers he has been tricked: the day that he unwittingly gave away was the one day that was actually important- the day he was
born
.
Missing part*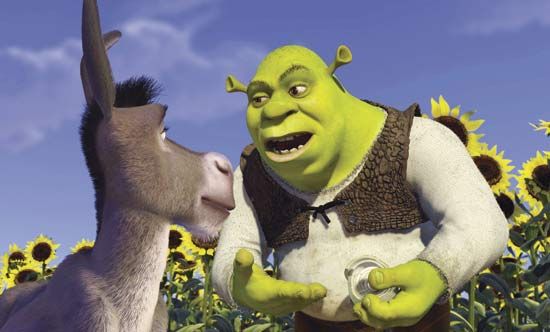 But even though all seems lost, there's still hope - if Shrek shares "True Love's Kiss" with Fiona by the sunrise of the next day, the contract he signed will be rendered null and void and the original timeline will be restored. However, Rumplestiltskin will do anything to stop Shrek and solidify his power that he now has.
So that's about it , I have left the missing parts out for you to find out more when you watch ! You would be excited to watch how he manage to get the true love kiss from fiona back again !
Did Shrek really die? I guess that's for me to know and for you to find out ! Overall not bad movie. :D Thanks Omy for the tickets.
And oh yea, this movie is in 3D , there are a few parts which the 3D really succeed in making my hand almost go out ! haha However I feel that the 3d feature/ effects is not really worth it, I guess 2d is more worth it ba haha ! overall definitely worth watching and a must watch if you watched the first 3 ep ! Haha :D
Moral of the movie? Dun ever anyhow sign contract ! haha JUST KIDDING :P