How to COMMENT IN MY BLOG !!!
Tag/Comment @
HERE ! CLICK IT!
A brief description WHY my comment BOX so
weird
SPECIAL ?
ANS : Because this comment box will not be saved if the URL is changed this is why I have to Give a link in every single POST of mine.
Common Question : Why does my main page have a comment box as well !
ANS: If you are not commenting about my blog POST , then you can comment there !
If you want to Comment on my blog POST , Follow the tutorial below !
NOW THE TUTORIAL ! :D
Step 1 :
You Should See this" Tag @ HERE or Tag/Comment @ HERE CLICK IT !" at each of my post.
So yea simply CLICK it and you should be directed to a page that has only my POST !
Step 2 :
This is how the URL ( Website) should look like !
http://november-days.blogspot.com/2010/01/which-is-nicer-i-need-your-views.html
Step 3 :
GO to the right side of the Page and COMMENT !!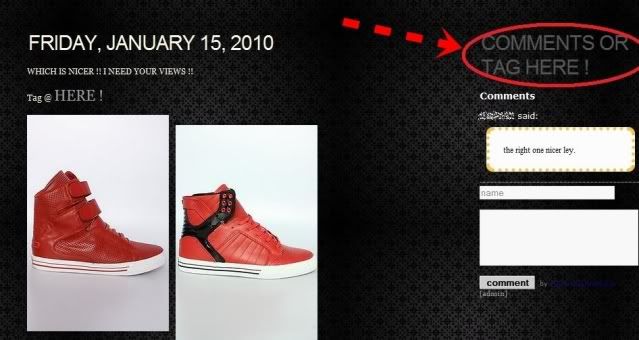 Hope This tutorial helps :D
Tag/Comment @
HERE ! CLICK IT!