(UPDATED WITH PHOTOS)
o.o hi guys im back LOLs haha
FIRSTLY,
HAPPY 16th BIRDY DAY TO GF ANGEL(laolao) !!!!
SEE THIS HOR
BIG BIG ONE !!
DUN SAY I NV POST !
SATURDAY :
spent quite alot this few days first had dinner wif my ex-sec frens
damn fun la can LOLS , had tian tian steamboat then camwhore..
haha meet up more !!
pictures: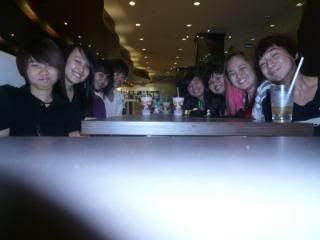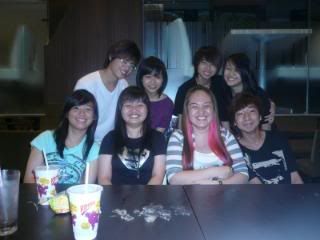 SUNDAY:
then watched terminator salvation with laolao
DEfinitely worth it
guys
this is a must watch movie !! haha
girls can watch this too but rmb dun sit too infront its kinda loud?
and had a mini bday celebration for laolao at imm.
MONDAY
:
went for buffet dinner to celebrate laolao and eric bday at parkmall with laolao and her schmates at
a mongolian restaurant with many type of cuisine
its pretty okay looks like sakura but more grand and stylo
haha if interested ask me more about the location and the price bah
photos :
bday girl and boy
TODAY:
went to pool wif usual one and only , XUANYOU
lols always we 2 haha .. he's going for his class chalet tmr
so meet him out for pool today..
haha lishi called and jio me
but i cant make it today
LISHI IF U HAPPEN TO SEE THIS, which most probably she wun?
anyday also can jio liao after today haha
plan plan
haha
weeeee , holiday seems so short yea?
but i kinda miss school?
haha ok im sick
but i rather had school for like 1,3,5 and 2,4 is holiday type so that
its
BALANCED !!
right people?
okay its time for me to stop here ;D
takecare people..